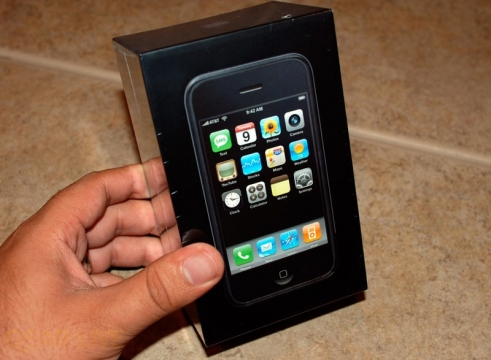 Ever since the iPhone came out in late June, I wanted one really bad. I told myself I wasn't going to get one. Well, for one, I had Sprint and had no intentions of dropping them. But when Apple dropped the price of the 8GB iPhone by $200, I just had to take the opportunity to get one. I know I posted before about my enV (I got Verizon after I dumped Sprint about a month ago, but bought the iPhone when they dropped the price and got my money back from Verizon- they have a 30-day money-back guarantee) and I have nothing bad to say about Verizon. Unlike Sprint, I had great service with them and got a signal just about everywhere, including my office building downtown, which is a concrete barricade for most all cell providers and even the majority of local radio stations. But, I just felt that I needed more of a PDA-like device to organize all I have going on with school, work, everything I do with church, and extracurricular activities.
I absolutely love my iPhone. It's just like my Mac: intuitive interface, easy to use, simple yet powerful, minimalistic architecture, aesthetically pleasing, elegant, and is designed beautifully. Everything made by Apple just makes sense, and this device is no exception.
I'd like to go through and review each home screen application individually, as they appear on screen, based on my personal experiences over the past week. Here's my personal review:
Text – Sending texts on this phone resembles an iChat conversation (it's not too far off from AIM, either) with the talk bubbles and conversation-based layout. The on-screen keyboard is very easy to use despite it's small size because of the shear precision of the touch screen interface.
Calendar – Syncs with iCal (Mac) or Microsoft Office Outlook (PC). I have four color-coded calendars set up in my iCal: Personal, Work, Church, and VCU. They all sync seamlessly with the iPhone. All alerts, reminders, and other features remain intact and all events are editable on the fly. My Mac was already helping tremendously to organize my busy (as of lately) life, but now that I have my calendar with me at all times I always know what I have going on.
Photos – Displays photos automatically synchronized from iPhoto (Mac) or any set folder on your Mac or PC, or those taken directly with the iPhone's built-in camera. Nifty interface with options for slideshows, transitions, and other cool things. You can also quickly zoom in or out on photos by "pinching" the screen (sliding your thumb and index finger together/apart).
Camera – Nice 2.0 megapixel digital camera that takes photos comperable to the iSight webcam built into my MacBook Pro. Good color quality with little to no brightness wash-out that you sometimes get with cameras on mobile devices.
YouTube – Excellent mobile version of the site with options for search, most popular videos, bookmarks, and more. Nice widescreen, full display of videos, fast loading, especially when connected to wi-fi as opposed to over AT&T's Edge data network.
Stocks – As you could imagine, I'm not really into the stock market, but very nice interface for checking up on the performance of your favorite companies should you so choose
Maps – A mobile version of the Google Maps application, and just as with any Google software, it's feature-rich and intuitive. "Pinch" to zoom in/out, view satellite imagery, get directions, search for the nearest anything (a simple search for Starbucks returns all the nearby Starbucks locations, complete with wi-fi information and phone numbers. Some even include store hours!
Weather – Simple, easy-to-use weather interface that shows the next few upcoming days' weather forecast and high/low temperatures, easily customized for multiple locations
Clock – Includes a timer, stopwatch, alarms feature, and world clock that displays the time in any city of your choosing worldwide
Calculator – Does the job. Simple, big buttons, does what it needs to do
Notes – Similar to the Stickies application in Mac OS X, useful for writing down "to do" items or anything you need to remember
Settings – Controls for everything on the iPhone, including really cool built-in ringtones. A lot of times phones come with lame ringtones, but Apple did a good job with this.
Phone – Well, this IS why I have the thing, right? Among other things, yes. View all your contacts (synchronized from Address Book (Mac) or Microsoft Office Outlook (PC)), and just click to see all their details. Click below to get to your "Favorites" list (basically speed dial on most phones), and the voicemail menu brings up one of the coolest features: Visual Voicemail. No more dialing your mailbox to retrieve messages and listening to frustrating audio prompts from within. Visual Voicemail does just what it sounds like- visually displays your voicemail messages and lets you click on them to play (click below to stop or pause) and delete or save them, scroll through them much like you would with a song on the iPod, and call the person back, all with one touch of the screen. Amazing feature.
Mail – All mail messages and account settings are imported during sync, and you can set your iPhone to automatically check for new messages from multiple accounts up to every 15 minutes. Very sleek, nice interface, easy to read and reply. I have my two personal accounts, VCU, and GACC accounts set up and they all work together seamlessly.
Safari – The iPhone is the first phone to offer "true" internet, not the mobile version you find on most phones. With the ability to "pinch" and "pull" to zoom in and out on the page, you can easily view everything in a snap. The screen will rotate from the normal portrait mode to landscape (widescreen) when you flip the iPhone 90 degrees. Very, very cool.
iPod – All the features of a regular iPod, with the ability to actually hear the songs on the built-in speaker, and view Cover Flow (shows your album artwork like a jukebox) when you turn your iPhone in landscape mode.
So with all these wonderful features, I will say that there are actually a few downsides that I've noticed. Nothing's perfect. Apple is due for another firmware update (1.0.3) within the next week or two, and I think they are going to squash most of the bugs. Here's what I've found so far:
1. When I listen to music on the iPod application of the iPhone and open up Safari and get online, either Safari or the iPod application will crash sometimes. It's about a 50/50 chance. You're supposed to be able to multitask and have multiple applications open, so I think this is definitely something the update will address.
2. No picture mail (!). Can you believe that? A phone that can send emails, have full web access, and get on YouTube can't send multimedia messages? Wow. There is a workaround I've found, though. You can email photos you've taken on your iPhone, so let's say you wanted to send a picture to a friend who has Verizon. All you have to do is email it to [email protected] and it will be sent to their phone as a picture message. Cool, huh? It sucks you have to do that, but it works.
3. No instant messaging/AIM support. The texting application looks like iChat and resembles an online chat, but for some reason no AIM support was included. This is rumored to be included with the update that's coming out, so we'll see. There is a nice version of Meebo built for the iPhone, though, although it sometimes causes Safari to crash.
4. No video support. This is also a rumored update. The camera is completely capable of good quality video, so I think this will be supported.
5. Limited settings. The Settings application is very clean, but limited. For example, you can't change the alert tone for texts, voicemail, email, or calendar alerts. Lame!
Overall, the iPhone is amazing. It's far beyond any of the competition. Years away, I believe. I'm very happy with my purchase and look forward to the future additions and updates.